Carey Students Model Pricing for Promising Drug, Remdesivir, for the Treatment of COVID-19
Why it matters:
Students in faculty member Supriya Munshaw's class "Pharmaceutical Strategy" authored a study on how best to price the COVID-19 drug remdesivir, which is currently undergoing clinical trials as a potential treatment for COVID-19. To do so, students performed market research and conferred with industry professionals familiar with drug pricing.
Real-time exercise allows industry insight during a time of global crisis and response
In the midst of the COVID-19 pandemic, a group of Johns Hopkins Carey Business School students are getting a hands-on education into the intricacies of pricing a drug that has the potential to alleviate suffering and improve outcomes for patients the world over. In the process, they are receiving invaluable exposure to issues contemporary to the pharmaceutical industry and global health care system sure to inform their preparation as future health care leaders.
As classmates in the Master of Science in Health Care Management's Pharmaceutical Strategy course and scheduled to graduate in August 2020, three Carey students – Sonia Toporcer, Mariia Salova, and Aastha Vashist – under the guidance of course instructor and senior lecturer Supriya Munshaw, chose to author a research paper on a strategy for pricing the drug remdesivir, an antiviral compound manufactured by Gilead Sciences, Inc. It is currently undergoing clinical trials on a global basis as a potential treatment for moderate-to-severe manifestations of COVID-19.
"This exercise is typical of the relevant and real-time projects Carey students regularly get to work on, such that they are best prepared as future health care leaders," said Munshaw, whose chief academic interest lies in commercialization of early-stage technologies, especially in the life science and medical device industries. "They were also able to work with and receive guidance from an industry mentor, Amarpreet Chawla, who is a frequent guest speaker for this course and has previously held market access leadership positions in the industry, including IQVIA and Johnson & Johnson."
Although remdesivir is not yet licensed or approved for use in the United States, early trials have indicated that it may have the potential to lessen the severity and length of illness in those patients with particularly serious cases of the virus. Under its "Emergency Use Authorization" program, the Food and Drug Administration has approved use of remdesivir on an emergency basis. In addition, the company has announced that, upon remdesivir's formal approval for use, it will donate 1.5 million vials of the drug worldwide, sufficient to treat approximately 140,000 cases of COVID-19. 
"This exercise is typical of the relevant and real-time projects Carey students regularly get to work on, such that they are best prepared as future health care leaders."

Supriya Munshaw, PhD, Senior Lecturer
According to the World Health Organization, which is helping to accelerate clinical research, no specific drug therapies have to date been recommended or approved to prevent or treat COVID-19.  That makes the potential for remdesivir as an aide to treating the illness even more intriguing and urgent.
In analyzing price points for remdesivir, the Carey student team determined that the therapy, designed to prevent progression of the disease to a severe state, could save anywhere from approximately $20,000 to $68,000 in hospitalization costs per seriously ill patient treated. Based in part on this estimate, the team determined an initial pricing of the drug, per treatment cycle, in the $60 to $100 dollar range. The students arrived at this range for several reasons, including the relatively low production cost of remdesivir and the "urgency of treatment," especially as there are no alternative therapies yet available. 
As the number of infected individuals suited for remdesivir treatment declines along with the pandemic, the team suggests Gilead can gradually increase the cost of treatment to start to recoup some of the expense of research and production, up to a total of $3,000. This number would be further influenced by the drug's efficacy and whether competitive alternative therapies had entered the marketplace in the interim. The price recommendation was also based on competitive products under research at the time of the analysis.
Conducting a pricing study on a drug under research for a novel pathogen with no corresponding history of therapeutic efficacy presented its own unique challenges. "We didn't have any direction on pricing, and there was not much public data out there on hospitalizations for COVID-19," said Vashist. "To narrow down our scope, we concentrated on moderate-to-severe cases of the illness and researched data on pneumonia cases to help provide a baseline for our efforts."
Another component to building a pricing strategy was examining other potential therapies in testing by competitor research firms, including the drug Actemra, manufactured by Roche. Besides esoteric industry data and scholarly research, reputed mainstream sources such as a "very helpful" analysis by The New York Times on potential treatments under development or in clinical trials helped to fill in the bigger picture, said Toporcer.
And what were the team's takeaways from the project?  
"The data analysis, as well as working with teammates and their reactions," will prove helpful in future endeavors, said Salova, "along with the methodology inherent in a research paper. Most importantly, we learned what questions to ask."
Added Toporcer," We had to think outside the box," due to lack of history for the COVID-19 pathogen. "We had to learn how to price and compare therapeutics based in part on past epidemics, particularly HIV."
"We also gained insight to regulations and how companies respond to input and criticism for setting drug prices," observed Vashist, who has already earned a Master of Public Health degree. "For me, it was mind blowing."
"In preparing their paper, the team received valuable exposure to methods of primary and secondary market research, in addition to a chance to confer with, and learn from, industry professionals," Munshaw observed. "I've been connecting students in my classes with industry colleagues so they can get that perspective. This helps with the nuances of the paper," she explained.
In all, Munshaw notes, the students' pricing recommendations were in line with estimates offered by several industry experts. The Carey team's recommendations proved "very reasonable," she added, as well as a testament to diligent research, critical thinking, and academic integrity.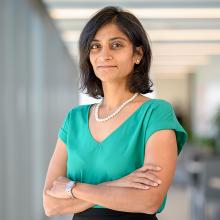 Senior Lecturer Supriya Munshaw, a technology transfer expert on the Carey Business School faculty, teaches the course "Pharmaceutical Strategy."