Master of Science in Finance Employment Outcomes
Employment outcomes for Finance Masters graduates
The career development team is committed to providing opportunities for you to build professional skills and competencies that are essential for a successful career search. The full-time Master of Science in Finance is for those individuals who plan to seek careers in the field of investment analysis and portfolio management.
Masters of Science in Finance Graduate Class Profile
689 average GMAT score
3.51 average undergraduate GPA
64 percent female / 36 percent male
> 0.5 average years of full-time work experience
1 percent of students from U.S.
*Fall 2019 incoming class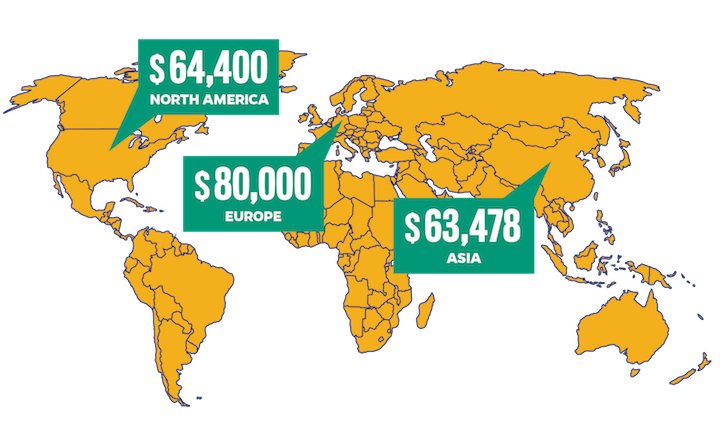 Average Base Salary for Master of Science Graduates by Region
Nearly 90%* of graduates received a job offer within 6 months of graduation.
*88%, based on data collected for 67% of 2018-2019 graduates
Companies (sample from 2017-2019 graduates)

Deloitte
Ernst & Young
Exelon Corporation
Geico
Johns Hopkins University
Johnson & Johnson
Legg Mason
Morgan Stanley
PriceWaterhouseCoopers (PWC)
Robert Half
United Nations
Wells Fargo

Titles (sample from 2017-2019 graduates)

Accountant
Business Analyst
Business Development
Chief Financial Officer
Consultant
Corporate Finance Management
Credit Analyst
Financial Advisor
Financial Analyst
Global Market Officer
Macroeconomic Analyst
Senior Risk Advisor
Portfolio Analyst