Master of Science in Marketing Employment Outcomes
Employment outcomes for Marketing Masters graduates
Students in this program have gone on to start or advance their careers across numerous industry sectors, including technology, manufacturing, media/entertainment, real estate, and health care. These are just some of the areas in the marketing industry where you can find and connect with Carey alumni in the Baltimore region, around the U.S., and across the globe.
Masters of Science in Marketing Class Profile
682 average GMAT score
3.53 average undergraduate GPA
77 percent female / 23 percent male
> 0.5 average years of full-time work experience
1 percent of students from U.S.
*Fall 2019 incoming class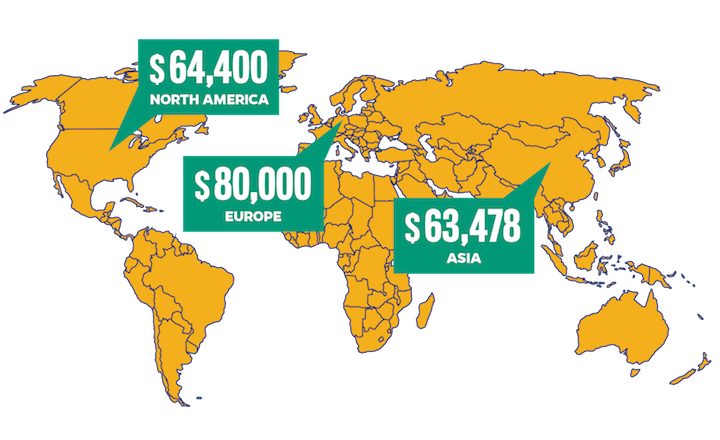 Average Base Salary for Master of Science Graduates by Region
Nearly 90%* of graduates received a job offer within 6 months of graduation.
*88%, based on data collected for 67% of 2018-2019 graduates
Companies (sample from 2017-2019 graduates)

Baltimore Jazz Alliance
Bloomberg
Children's Hospital of Philadelphia
IBM
Johnson & Johnson
Kraft Heinz
Lenovo
L'Oreal
MARS
Medifast
Nestle
Proctor & Gamble (P&G)
Tiffany & Co.
Unilever
World Financial Group

Titles (sample from 2017-2019 graduates)

Account Supervisor
Board Development Specialist
Business Development
Data Analyst
Digital Marketing Manager
Marketing Director
Marketing Manager
Product Manager
Research Analyst
Sales and Marketing Executive
Senior Product Manager