About Teaching and Learning
We strive to promote teaching excellence at Johns Hopkins Carey Business School by working closely with faculty to support student learning.
Our goals
Teaching & Learning@Carey helps faculty to identify strengths and challenges in their teaching practice by analyzing information collected from various sources including, but not limited to, students, faculty, staff, observations, and relevant research. We work closely with faculty to integrate innovative technologies and pedagogical strategies to provide effective teaching and, in turn, to increase the quality of student learning.
Our team
Justin Habash
Assistant Dean
Justin received his masters and PhD in philosophy from Duquesne University and comes to us from the College of Pharmacy at The Ohio State University where he was director of the Office of Educational Innovation and Scholarship.  In this position, he led the design and implementation of a new mastery-based modular PharmD curriculum. 
He created new faculty development programs that expanded training opportunities tailored to the specific needs of different faculty members and teams. Over the course of the last four years, he helped build an Office of Teaching, Learning, and Assessment that established new systems of faculty support for course design and development, educational technology use, and course and program assessment. He was previously director of Faculty Services for the Adult and Continuing Education Program at Ohio Dominican University.
Justin's primary focus is helping faculty successfully incorporate evidence-based active learning pedagogies into their courses in ways that create more dynamic learning experiences for students.
---
Charles Wachira
Director
Wachira received his MS in instructional technology and BS in business administration from Bloomsburg University of Pennsylvania. Prior to joining Carey in spring 2014, he worked in the instructional technology arena in both K–12 and higher education. Most recently, he spent over six years at Franklin & Marshall College in Lancaster, Pa., where he focused on instructional technology and design. His interests include exploring how education drives technology innovations and the impact that emerging technologies have on teaching, learning, and research.
Wachira focuses on online learning at the Carey Business School, including course development, program production, and project management.
---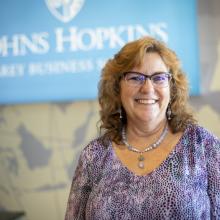 Nancy Brown
Instructional teaching specialist
Brown received her BS in business administration, her master's in adult learning, a graduate certificate in online instruction from Walden University, and she is currently pursuing her MBA. Before joining Carey, Nancy worked at Walden University's Academic Skills Center as an instructional specialist and as a lease administration manager with Joseph A. Bank Clothiers. Brown is passionate about learning, exploring how to improve systems, creating dynamic change, and inspiring others to learn.
Brown's focus at Carey is to support and assist faculty in creating an energetic, rewarding learning experience for their students.
Desk Phone: (410) 234-7679
---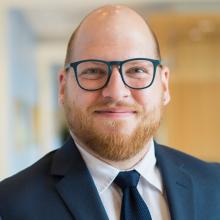 Ben Casto
Instructional designer
Casto holds a BA in human studies and an MA in teaching from St. Mary's College of Maryland. Prior to joining Carey in August 2016, he was responsible for instructional technology at St. Mary's. He ran workshops, communicated IT policies across campus, and taught classes on life in the digital age.
Casto's areas of focus include online learning at the Carey Business School and working with stakeholders to manage and improve the student experience.
Desk Phone: (410) 234-3060
---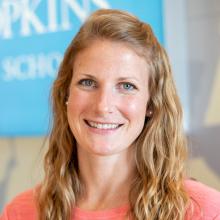 Emily Davis
Instructional designer
Davis joined Carey with a background in project management and hands-on development of online college courses. She holds a BS in psychology from Lafayette College and an MS in education from the Johns Hopkins University School of Education. Prior to joining Carey in 2018, Davis worked in both K–12 and higher education. A Baltimore native, Emily joined Teach for America and was a teacher in the Baltimore City Public School System. More recently, Davis worked at a local higher education company, where she developed and maintained a catalog of over 66 unique online college courses available for transfer credit, managed small- and large-scale projects, and worked with stakeholders to meet the diverse needs of students and partner institutions.
Davis focuses on online learning at the Carey Business School, including course design, development, and faculty collaboration.
Desk Phone: (410) 234-4530
---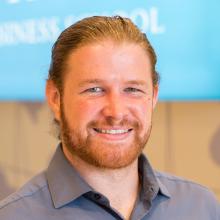 Collin Diesenberg
Multimedia technician
Diesenberg arrived at Carey in summer 2017. He has a bachelor's degree from Stevenson University, where he majored in film and minored in business management. He freelanced for several years, gaining experience in all aspects of video production working on productions for Discovery, E! Network, and NFL Kickoff. Before joining Carey, he worked at the School of Social Work for the University of Maryland, Baltimore, where he coordinated webinars, helped to build media services to support the execution of various state and federally funded grants, and produced and coordinated all aspects of media projects.
Diesenberg's area of focus is consulting and producing media for the online courses as well other staff projects that support both online and on ground classes.
Desk Phone: (410) 234-9671
---
April Foiles
Instructional teaching specialist supervisor
Folies earned her MA in learning design and technology from San Diego State University. Before joining Carey in 2017, Folies designed instruction, taught workshops, and improved processes and performance for higher education, nonprofit, and corporate clients. She was a curriculum analyst for the Rady School of Management at University of California, San Diego and an adjunct faculty member at Lake Tahoe Community College. She values the science of learning and focuses on research-based learning design. She loves collaborating on creating innovative opportunities and elegant solutions.
Folies focuses on the quality of our graduates, assists faculty in facilitating courses, and works with faculty and staff to improve existing courses. Folies also collaborates on developing and delivering workshops for faculty.
Desk Phone: (410) 234-9673
---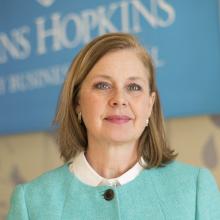 Catherine (Cathy Mitias)
Instructional teaching specialist
Prior to joining Carey, Mitias taught economics and accounting at the American University of Sharjah in the United Arab Emirates, where she lived with her family for nine years. She holds a master's degree in economics from Louisiana State University, with an interest in resource and environmental issues. For many years, Mitias worked on public policy regarding the restoration and management of Louisiana's vanishing coasts.
Mitias supports courses for our online program by assisting faculty in assessing the content as well as the delivery of those courses.
Desk Phone: (410) 234-9674
---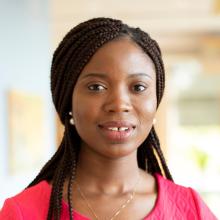 Adesola Ogundimu
Instructional designer
Ogundimu holds a PhD in instructional technology and a master's degree in information and telecommunication systems, both from Ohio University. Before joining Carey in 2018, Ogundimu taught hybrid courses on technology integration in K–12 education at Ohio University, where she also worked in instructional design, course evaluation, and faculty training and support capacities. Her scholarly and design work focuses on digital accessibility and learner engagement in online learning environments.
Ogundimu focuses on online course design, development, and revision, as well as faculty training.
Desk Phone: (410) 234-9457
---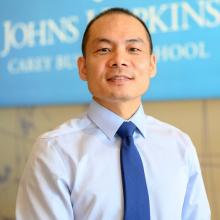 Jun Fang
Instructional design and development supervisor
Fang received his master's degree in secondary education and PhD in learning design and technology from Purdue University. Before joining the Johns Hopkins Carey Business School in March 2019, he worked as an instructional designer at the University of Illinois at Urbana-Champaign and then served as manager of instructional design and development at Purdue University.  He has published and presented multiple research papers related to learning and instructional design in journals and at national and international conferences.
Fang will focus on new program initiation and management, application of innovative instructional technologies in teaching and learning, and faculty consulting and training.
Desk Phone: (410) 234-3081
---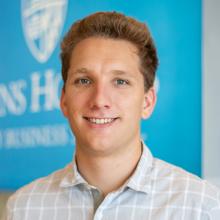 Ryan Schmucker
Multimedia technician
Schmucker holds a BS in communications from Millersville University, where he was heavily involved in the student-run television station, acting as producer, director, camera operator, and on-air talent for a variety of shows. Prior to joining Carey, he worked as a freelance videographer for a year, and then as an operations technician for the NBC affiliate WGAL-TV news station in Lancaster, Pa.
Schmucker's areas of focus are post-production editing, producing synchronous online sessions, and creating the best experiences for our online students and faculty.
---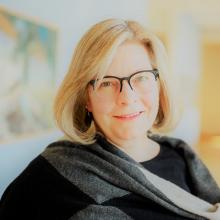 Elizabeth McGraw-Austin
D.C. multimedia technician
Elizabeth holds a BA in mass communication from George Mason University and an MLA from Johns Hopkins University. Before coming to Carey, she worked as a freelance video producer, director, and editor for clients in the DMV region, as well as teaching media production in both college and community settings.
Mcgraw-Austin's area of focus will be on supporting synchronous course sessions, researching and supporting the development of learning technologies, and supporting course development from the Carey D.C. Campus.
Desk Phone: (202)663-5742
---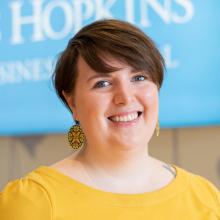 Alexandra (Alex) Slick
Administrative coordinator
Slick earned a BA in liberal arts from Shepherd University. Before joining Carey, she worked in the outdoor industry, pursuing opportunities in Utah and New Orleans before returning home to Maryland. She most recently worked as the group sales and marketing coordinator for River & Trail Outfitters, where she coordinated all incoming groups, created and maintained the marketing schedule, and represented the company at area events and conferences.
Desk Phone: (410) 234-4536
---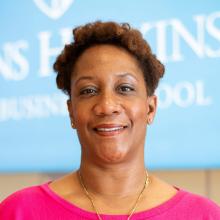 Dionne Thorne
Instructional teaching specialist
Thorne joined Carey with expertise in instructional design and online teaching and learning. Prior to joining Carey, Thorne was responsible for leading diverse online learning projects, including implementing and managing a college-wide quality assurance initiative for online and blended learning courses, providing instructional design support, and facilitating and developing faculty development offerings for online course design and facilitation. Thorne earned an MA in instructional systems development from University of Maryland, Baltimore County, an MA in government from Lehigh University, and a BA in communications from Howard University. Thorne is currently pursuing a PhD in instructional design for online learning at Capella University.
Thorne's focus at Carey is to support faculty in creating an engaging learning environment for students.
Desk Phone: (410) 234-3064
---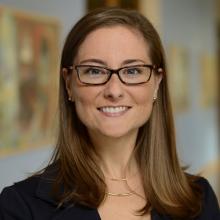 Catherine L. Zadoretsky
Editor/Communications officer
Zadoretzky holds an MA in writing from Johns Hopkins University and a BA in English language and literature from the University of Maryland. Before joining Carey in 2014, she worked as an editor in various industries, including the performing arts and government consulting. She also spent four years as an editor and project manager for an education technology company, creating materials for K–12 and adult education — including online courses, textbooks, and open educational resources — for a wide range of clients, from startups to multinational publishers.
Zadoretzky's areas of focus include syllabus management, curriculum-related processes and trends, Lean process improvement, and other school- and university-wide special projects.
Desk Phone: (410) 234-9473
---
Jie 'Jeremy Zhang
Senior Assessment & Evaluation Specialist
Zhang joined Carey with expertise in instructional design, curriculum development, student learning outcome assessment, and program evaluations. Previously, Zhang managed and conducted research and evaluation studies at the Columbia University International Center for Cooperation and Conflict Resolution and Syracuse University Project Advance. Zhang received a MA in mathematics, science, and technology from Columbia University and two MS degrees in applied statistics and instructional design, development, and evaluation from Syracuse University, where he is currently pursuing a PhD.
Zhang focuses on assessment of student learning and course evaluation data analysis, and support faculty development efforts.
Desk Phone: (410) 234-9478