Professional networking  
Networking is the process of meeting people that you have common interests with. Anyone who has made friends or who has been in any kind of relationship already knows how to network on a basic level. 
Why networking? 
Networking is a great way to become a member of your professional community. 
Networking enables you to learn about your industry so that you can more easily navigate job interviews. 
Maybe most importantly, networking creates allies that will vouch for you when it comes time to apply for a job. A referral from a current employee is nearly priceless to human resources. 
93%

of international students secure jobs in the U.S. by networking in their industry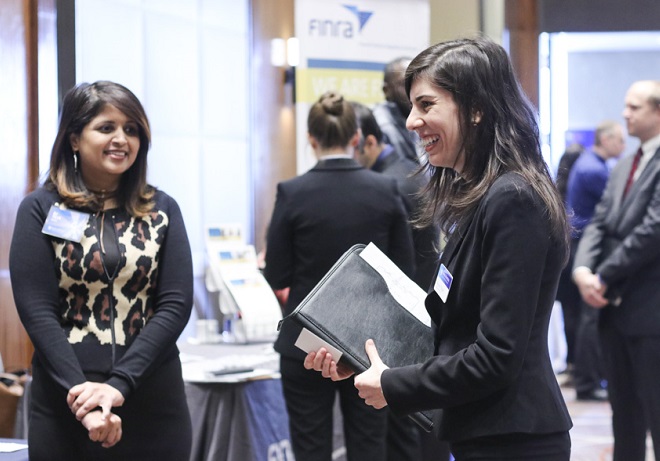 Two approaches to networking 
For some, reaching out to industry professionals that they have no other connection to works, particularly if they are prepared to reach out to a lot of people. On a long enough timeline, this process will yield results. It should be noted that this method might be uncomfortable for anyone who doesn't like the idea of reaching out to a stranger. 

For others, it might make more sense to seek out people they know and have them introduce them to people they would like to meet. LinkedIn makes this process fairly straightforward by identifying 2nd degree connections (people that are on a first name basis with people that you know) and asking your mutual connection to introduce you. This requires that you leverage your existing network. With this in mind, a combination of these two strategies might be necessary for some. 
---
Building your network 
Start with people you know 
Discuss professional goals with family members, relatives, neighbors, personal friends, and general acquaintances so they know you are searching for a specific job and are qualified for it. 
Engage the Carey community 
Look to peers, alumni, and faculty to help you network as you socialize. 
Join professional associations 
Become a member of a professional organization and attend events with the goal of meeting at least one new person at each function. 
Attend conferences 
Conferences are an excellent opportunity to make connections, share, and gain information. 
Utilize social media 
Create a LinkedIn profile and be active: keep in touch with contacts, reach out to new contacts, read posts by influencers, and follow targeted companies.  
Resources for download
---
Informational Interviews 
One of the most effective ways to gather information about your target industry is to schedule an informational interview with an industry professional, so you can learn more about a particular industry or job function. This type of interview is best suited for students in the early stages of creating a job search strategy. Refer to the Informational Interview Questions resource below if you would like to prepare for this type of meeting. 
Resources for download
---
Networking tips
Be assertive 
Do not wait for people to talk to you at events. Take the initiative and introduce yourself to people by asking them what they do. Such informal connections are often invaluable. Refer to the Conversation Cues resource below for further information. 
Be organized  
Keep track of who you meet, where they work, and what they do by using spreadsheet software. After a meeting, be sure to write down the date, time and any notes about the meeting. Refer to the My Networking Connections spreadsheet to help get yourself organized. 
Write thank you notes 
Following a meeting or an informational interview you should write a thank you note. Let people know that you appreciate their time and the information they shared—it will reinforce a genuine connection and will not be soon forgotten. Refer to the Informational Interview Thank You Templates below to get started. 
Maintain relationships 
Stay in touch with contacts by sending them interesting articles or inviting them for coffee. Remember that networking is a two-way street. Continuous contact with your network will increase its effectiveness. Network members should also be kept up-to-date of any changes in status or qualifications, which is one of the reasons why LinkedIn news feeds are so great. When you accept a job, notify your contacts and thank them for their help.  
Resources for download