Frimpong Named Recipient of JHU Catalyst Award
Carey's Jemima Frimpong RECEIVES JOHNS HOPKINS HONOR for Early-Career Faculty Members
Jemima Frimpong, a Carey Business School assistant professor with expertise in management and organization, is among the 34 Johns Hopkins faculty members newly announced as recipients of the university's annual Catalyst Awards.
The honor, which comes with a $75,000 grant, recognizes early-career JHU faculty members whose work has shown originality and has made an impact in their respective fields.
About 75 percent of this year's recipients are assistant professors, and more than half are women. They represent seven divisions of Johns Hopkins and specialize in a broad range of areas, including management, ophthalmology, mental health, chemistry, computer science, and musical composition.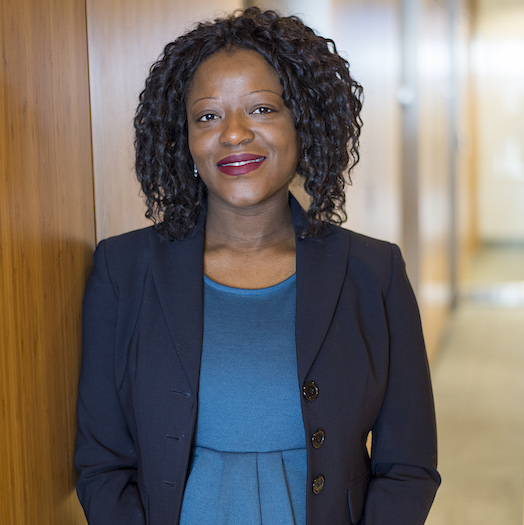 "Progress requires our brightest minds to pursue big ideas that extend the horizons of human knowledge," Johns Hopkins University President Ronald J. Daniels commented in the Hub, JHU's news website. "At a time when research funding is more competitive than ever, Johns Hopkins is thrilled to support these promising faculty as they embarking on novel research and creative projects."
Frimpong (right), who earned her PhD in management science and applied economics from the University of Pennsylvania's Wharton School of Business, joined the Carey faculty in 2016. She previously was an assistant professor of health policy and management at the Columbia University Mailman School of Public Health.
Her areas of expertise include the adoption and sustainability of innovations, development and testing of organizational-level interventions, and performance improvement, with a focus on health care organizations. She holds a joint appointment at JHU's Armstrong Institute for Patient Safety and Quality.
Johns Hopkins launched both the Catalyst Awards program and the Discovery Awards program for cross-divisional collaborations in 2015. The 2017 Discovery Awards were announced in late June, with Carey Assistant Professor Roman Galperin picked as one of the recipients.
The Catalyst program is open to any full-time faculty member named to a tenure-track position within the past three to 10 years. Senior faculty members from across the university served on a panel that chose the awardees from about 150 submissions.
"Each year, we are amazed by the talent and creativity evident in the Catalyst Award applications," added Denis Wirtz, JHU's vice provost for research. "These faculty represent the future of their fields and the future of our institution. We look forward to working with this cohort over the next year as they reach new milestones that transform the trajectory of their careers."
Other Carey Business School faculty members who have won Catalyst Awards are Associate Professor Mario Macis in 2015 and Assistant Professor Emilia Simeonova in 2016.